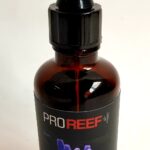 pro reef Coral Dip Pro – 50 ml
RM80.00
Description
pro reef Coral Dip Pro – 50 ml
Direction of Use;
Use 5ml of the Pro reef coral dip for every 4litres of water,  Mix well and if possible using a small powerhead or blower gently on the corals. Keep the water moving in the coral dip solution . If you do not have a powerhead, gently shake coral in the coral dip. Keep coral in the coral dip for about 5 – 10 minutes.
After 5 – 10 minutes, remove coral and discard the coral dip. Do not reuse the coral dip as parasite may release toxins. Rinse coral with clean saltwater and return to aquarium.
Wash hand if contact directly with the coral dip
** Do not add this product directly into aquarium.